"Turn your passion for writing or your hobby into a part-time or full-time career as an Article Writer!"

Writing articles for your local newspaper, for magazines and for the websites on the Internet can provide you with a substantial income and increase your notoriety as an author.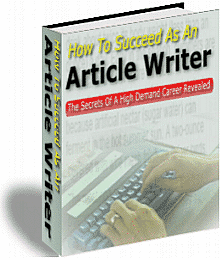 The demand for good article writers is higher than ever. With the growing popularity of blogging, webmasters need new articles on a continuing basis in order to maintain the ranking for their sites. How to Succeed As An Article Writer will teach you how to write quality articles even if you have never written or been published. You will learn about:
THE FIELD FOR SPECIAL ARTICLES

PREPARATION FOR SPECIAL ARTICLE WRITING

FINDING SUBJECTS AND MATERIAL

APPEAL AND PURPOSE

TYPES OF ARTICLES

WRITING THE ARTICLE

HOW TO BEGIN

STYLE

TITLES AND HEADLINES

PREPARING AND SELLING THE ARTICLES
Plus you get real-world examples of published articles, headlines and opening sentences so that you can see the different styles of wriing actual quality articles.
By applying the methods outlined in How to Succeed As An Article Writer, you will be able to prepare and sell quality articles. You want to write articles to:
Increase Your Presence As An Author

For Quality Content for Your Website or Blog

For Your Local Newspapers or Magazines

To Promote Your Website Through Article Submission Sites
Or
To Make Extra Money Writing For Others
The detailed suggestions and examples in this book will be an immense help to your writing.
Learn from a prolific magazine writer, W. Terry Whalin. For over 25 years, Terry Whalin has been writing magazine articles. His work has appeared in more than 50 print publications such as Writer's Digest and The Writer. Also Terry has been a magazine editor at a couple of different publications including his stint as Associate Editor at Decision when the circulation for each issue was 1.8 million copies.
How to Succeed As An Article Writer is like getting a college level course in article writing. If you got this information from a college professor, you could pay a couple of hundred dollars or you can order How to Succeed As An Article Writer for a fraction of the cost and get immediate delivery for only $24.97.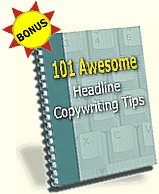 Order Now and receive several bonuses. The first bonus is 101 Awesome Headline Copywriting Tips, a $14.97 value absolutely free! 101 Awesome Headline Copywriting Tips is the perfect companion ebook to How to Succeed As An Article Writer.
As a second bonus, Terry is including the audio of a workshop called Carefully Crafted Query Letters. You will receive this hour-long audio of Terry's detailed insights combined with his detailed handout with additional resources. This $29.95 audio is included as a bonus in this package.
In fact...
You Can Get 100% Of Your Money Back Anytime
During The Next 60 Days With Just One Email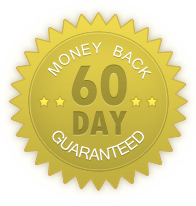 If you aren't completely satisfied, just email me and I'll refund your money. It's that simple. You get to work through the 500+ page Ebook at ZERO RISK to yourself. Go ahead, try them out. Test this system thoroughly. I'm confident of the results.
At any rate, you have nothing to lose. And money to gain.
Click Here To Order Now
YOU WILL RECEIVE THE ENTIRE EBOOK INSTANTLY
(Even if it's 2:00 AM on a Saturday)
* Every effort has been made to accurately represent this course and its potential. I cannot and do not guarantee you'll make a specific amount of money or any money at all. Please remember that each individual's success depends on his or her background, dedication, desire and motivation. As with any business endeavor, there is no certain guarantee that you will earn any money.
Legal Information
Disclaimer | Terms Of Service | Earnings Disclaimer | Privacy Notice
Best regards,

W. Terry Whalin
P.S. Remember, you get to try out the entire system - literally work through the 500+ page Ebook and bonuses -BEFORE you decide if you want to keep it!